The Rainbow Machine Air Edition is now available in Airspace Beta program!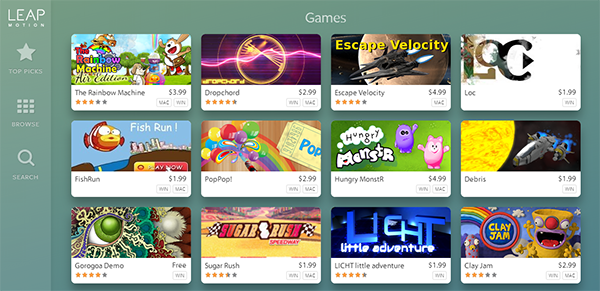 Good news! A few months ago we developed The Rainbow Machine Air Edition, a version of our game The Rainbow Machine tailored to harness the incredible capabilities of Leap Motion devices. Our game is now available for free in the Airspace Beta program, so if you're a Leap Motion user with access to the Beta program, please take a look at our game here. All your comments are welcome!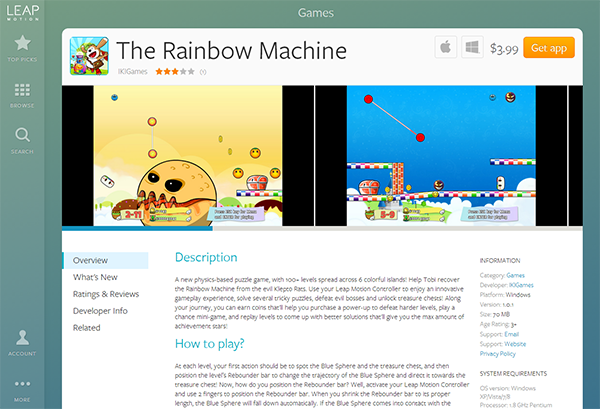 Essentially, The Rainbow Machine Air Edition uses Leap Motion's gesture detection and motion tracking device and API to offer a novel play experience. As our game is based on LibGDX (using LWJGL as backend for desktop) integrating the Leap Motion API was a pretty straightforward task, which allowed us to release the game for both Windows and Mac OS X. Regarding the gameplay: in The Rainbow Machine Air Edition you use your fingers (or "tools" like some chopsticks or pencils) to control and position a bar. In each of the game's 140 levels, once the bar is set, a blue ball will automatically fall down and if you have properly placed the bar then the ball will bounce and reach the treasure chest of the level!
Do you want to know what's the most important part about The Rainbow Machine Air Edition?… That we had a lot of fun creating our Leap Motion game! And we hope everyone who plays The Rainbow Machine Air Edition will also experience a fun time. By the way, it's been a great pleasure to work with the Leap Motion team: support is prompt and complete, they gave useful feedback, conducted an exhaustive testing of the game, and provided a flawless guidance throughout the process. A pleasure to work with them, indeed.
Now we're looking forward to the official opening of Airspace. Stay tuned! And thanks for reading! 😀