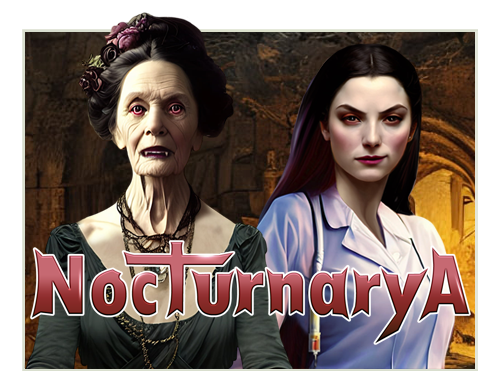 Nocturnarya has fallen under the dominion of the human army, and the vampire population is on the verge of complete destruction. Take on the role of a leader, guiding a small tribe of vampires towards their salvation. Throughout the perilous journey, you will face challenges from slavers, bandits, and the invading soldiers. You will have to reluctantly cooperate with the mysterious Diabolical Nurse, encountering both allies and betrayers. Your goal is to establish a prosperous village, gather blood reserves, and find the Legendary Sword and the Golden Mace. Nocturnarya has descended into a chaotic realm, overrun by humans. Your mission is to restore order and assert your dominance as the supreme ruler of Nocturnarya!
Match 3 game with 3D village builder.
KEY FEATURES
90 Match 3 levels.
Build a village for your vampire tribe.
Hidden Object minigames.
Puzzle and Bloody Light minigames.
Relaxing Match 3 levels.
Gather blood cartridges.
Many more challenges.
Purchase and play Nocturnarya