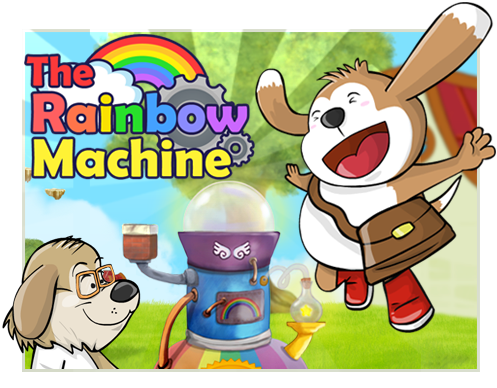 Play now and help Tobi to retrieve the stolen Rainbow Machine by devising ways to lead a bouncing ball towards the treasure chests! You will also have to defeat the burglars: a wicked bunch of kleptomaniac rats!
Physics-based, Puzzle game.
KEY FEATURES
Colorful and fantastic story scenes.
The game includes incredible puzzles based on bouncing marshmallows, breaking blocks with bombs, avoiding saws and monsters, bouncing off moving platforms and oranges, sliding ice blocks, and many more game actions.
Challenge level: Keep trying! Don't be fooled by the cute graphics of the game: some levels can be really tricky!
Collect coins! The Rainbow Machine includes a Store, and you will need plenty of coins to buy Extra Rebounders, Initial Impulse and other
wonderful items that might prove really useful to reach treasure chests.
Play a fun Jackpot stage at the end of some levels and win extra coins.
When you finish a level, you will see a Stars rating of your play. Open the treasure chests on your first try! That way, you'll get the maximum rating of 5 stars!
Find 16 pieces and materials of The Rainbow Machine.
Find 6 hidden trophies and show that you are an authority on The Rainbow Machine!
Mischievous bosses are awaiting for you at the end of each island!
Unlock islands by defeating bosses or rising your score.
Purchase and play The Rainbow Machine on
The Rainbow Machine also has special versions for:
You may also like...