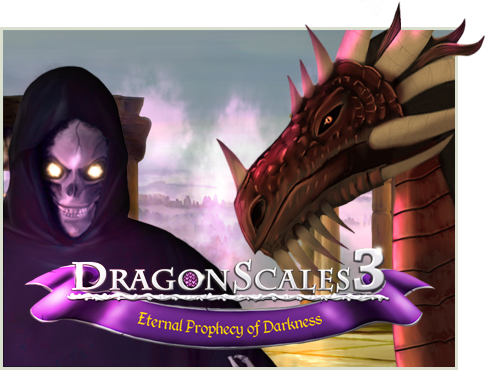 The caravan of mages has been slaughtered off by an mysterious spell. Only a wizard managed to survive: you. Take a journey into a world threatened by the worshippers of a sinister prophecy, a ritual to invoke absolute darkness and decimate the Gravity Kingdom. Your mental prowess is the ultimate bid for the survival of your race. This is the DragonScales with the richest gameplay ever: match colored scales on the board to collect special tiles, stars and prizes, defeat skulls and other monsters, solve tricky puzzles, and many more game actions! There are bosses too, showcasing a new approach to battles. An adventure with more than 150 levels, perfect for brain fitness! Put a halt to the deviant aura of the Eternal Prophecy of Darkness!
Tile-matching and strategy game!
KEY FEATURES
More than 150 totally new levels.
Exciting and varied challenges: basic scale combinations, scales which fall from their position, chasing scales, solving puzzles, destroying skulls and monsters on the board, and many more actions. This is the DragonScales with the most gameplay variety ever!
Added 'Gravity Mode', another fun and novel mode to play. Both Gravity and Classic modes provide random, potentially infinite levels.
5 boss battles with a new play mode.
For the first time, DragonScales allows players to win badges and collect stars, for enhanced replay value. Some stars are secret, and you'll have to find them out.
Alluring experience for both expert and casual players. You can enjoy a relaxed play experience, or you can try to beat the records of each level! It's up to you!
New array of magical powers. For instance, you can use 'Improved Prescience' to select a tailored set of scales to play, or even change completely the position of all the scales on the board with the new 'Confusion' power!
New story arc, new music, new HD graphics.
Perfect for brain fitness!
You may also like...